"I have always loved RSS because it gave me just the slightest bit of control and..."
– Our Regressive Web. Full-content feeds are like instant Instapaper.
1 tag
"To an outside observer, it looks like we're, like, the least disciplined..."
– Wil Shipley. Life is hard if you can't embrace unpredictability.
3 tags
"Humans are incredibly good at trying new and random things when they get instant..."
– Wil Shipley. That's the great thing about the physical world.
Final Twine hardware →
supermechanical: We tend to elevate artisanal, individually made objects for the exceptional care put into their creation. But as much human effort goes into making a great machine-made object. Mass production is itself an artform, and a modern miracle. Friends, I can attest to this. We see the light at the end of the tunnel for Twine (which of course then leads to a narrow bridge over a...
"Given everything a phone can do, suggesting that the screen is the most..."
– A conversation between Rob Walker and co-founder of Area/Code, Kevin Slavin : Observatory: Design Observer. Questioning the faith placed in AR (like QR, right?), but there's a bigger philosophy here. My perfect phone is forgettable, saving my gaze for my environment. I don't want to connect, I...
2 tags
"Your phone should know when you have a meeting across town and tell you to leave..."
– Kickstarter blog, Featured Creator: Adam Grossman of Dark Sky. This is what even more data and context gets you. No comprehension, just the Right Thing happening. (But leave room for happenstance.) We backed Dark Sky.
2 tags
"Remember when everyone was sure that Apple's tablet was going to cost around..."
– parislemon: Marco Arment Rips The Kindle Fire  
1 tag
We outsourced the future.
supermechanical: When we crystallize our manufacturing processes and ship them to the factory Over There, we lose the ability to improve them ourselves. This isn't felt immediately, but outsourcing means you're paying someone else to get better at it, and then they can use that expertise for their own benefit when new opportunities come along. But you'll just move on to the Next Big Thing,...
3 tags
3 tags
Products are props
Narrative seems to be required in products these days. Pornographic details of how this chair was assembled, where this jacket was discovered, the machines (not humans!) which carved my laptop out of metal. Lots of adjectives like 'hand-selected', 'rugged' and 'refined'. It's because above a certain price point, consumers are buying authenticity that...
3 tags
"…Sparks tries to deliver the kinds of thing you want to share with others,..."
– Inside Google+ — How the Search Giant Plans to Go Social | Epicenter | Wired.com I don't mean to pick on Google. But this crystallizes the "memes as virus, humans as carrier" meme to me. Here Google+ claims to do even the work of curation for us, but it's on all social...
2 tags
"Digital content" is more than reading it on a...
I thought I was waiting for reasonable digital prices to finally subscribe to the New Yorker's fine long-form journalism. Yet now that I can buy an iPad subscription, I'm still weighing it. For $20 less and more of my personal info, I can get all this plus the print copies. Funny that I thought the new digital price is reasonable until I see how it's actually more than the...
3 tags
"I like to give customers the feel of looking through their grandmother's..."
– My sister, featured Brooklyn Flea vendor and like any good hustler, user experience designer. She also has an amazing collection of record players.
3 tags
"a rectangular screen, tight bezel, flat back. This description can be applied to..."
– YES. This becomes a problem as software becomes the product. Analog Form | Blog | design mind (via slantback)
3 tags
Xoom/Honeycomb 5-minute UX workout
Just got to play with a WiFi Motorola Xoom. For those who haven't gotten to yet, here are my quick and utterly incomplete impressions as a designer: Physical — I've long admired the machine aesthetic Motorola has developed through hard edges, texture and refined color and material choices. This slips on form but not the rest. I liked the feel in the hand but I was also surprised by...
3 tags
Where is plastic "honest"?
Pouring so much plastic into disposable conveniences has helped to diminish our view of a family of materials we once held in high esteem. Plastic has become synonymous with cheap and worthless, when in fact those chains of hydrocarbons ought to be regarded as among the most valuable substances on the planet. — "Plastic: Too Good to Throw Away," New York Times. Designers like to...
3 tags
"The visual design of the iPhone app icon communicates that it is like a little..."
– The Only App Phone, Greg Cox (via Daring Fireball)
1 tag
"'I want to sit here at my desk… cranking out beautifully layered..."
– Visual designer Mike Monteiro
1 tag
"A true industrial designer is more of a problem solver. A true artist tends to..."
– Industrial designer and Dodge CEO Ralph Gilles
2 tags
Fidgety children want attention
Yesterday at the Media Lab, Sherry Turkle hosted a discussion of her new book "Alone Together," which I gather has been earning her accusations of grumpy luddism. So she made a point to say that she's an optimist: "We think the Internet is grown up. It isn't." When the Internet is grown up, it will be less insistent. The way we absorb it from phone screens...
2 tags
"I try to figure out what it is that this little red light (indicating a message..."
– "Alone Together": An MIT Professor's New Book Urges Us to Unplug | Fast Company (via slantback)
1 tag
4 tags
"As an engineer, my design has become one thousand times more effective because..."
– Reader comment on "The End of Driving: Mike and Maaike introduce the Autonomobile", Core77, prompted by an awful design concept.
"Is this project really worth working on, or am I just getting paid to give form..."
– Craighton Berman poses the Golden industrial design question. Also avoid the timefill, digital designers — our space is not the only finite resource. (And Craighton, Skymall in your portfolio is a hipster card, to be played ironically. I'm jealous?)
2 tags
4 tags
2 tags
Press for the Proverbial Wallets
Designboom blogged the Proverbial Wallets a few weeks ago, and it trickled up from there. Some of the highlights: CNN anchors asking each other "Omigawd, which wallet is your favorite?" Boston Herald page 3 feature that launched a thousand local news crews CBC Radio interview with my partner in crime for the early prototypes, Daniel Leithinger Article in the mX commuter newspaper. My aunt in...
5 tags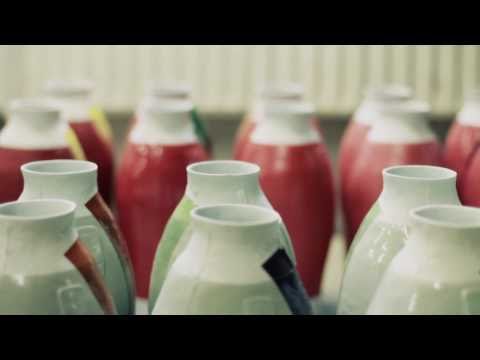 4 tags
Form following functiongiver
The original iMac is a landmark in electronics design language. The handle, the colors, the friendly face, all contributed to changing the user's relationship to computers. None more so than the translucent shell that exposes the guts. It says there's nothing to fear in here—it's engineering, not magic. Compare this to the blingy, hollow towers of home stereos that mask their...
2 tags
4 tags
Watch
Tableau is at the Saint Étienne International Design Biennale in the "Tomorrow is Today" exhibition, along with the proximeter. I'm developing these both for production next year. Drop me a line if you're interested.
2 tags
"…the first thing that happened when he bought an iPhone "was that New York fell..."
– from "Sad As Hell", a book review cum social critique by Alice Gregory (via craightonberman)
4 tags
The OS that launched a thousand Apples
Saying that Android is fragmented as a phone platform by comparing it to the iPhone is…the wrong comparison. Instead, think of it this way: Android is the most unified electronics device platform in the industry's history. —"Tipping Points and The Future of Electronics" Forget cellphones—Android heralds a shift in embedded electronics. Entrepreneurs will be free to...
2 tags
7 tags
Tools for the electronic renaissance
Brenda Garand, the Dartmouth professor, picked up a C- clamp to which Fane had welded a pair of angle brackets. She said, "This is something that Larry made for a specific purpose. It was for holding on to something at multiple angles." Jim Osman laughed, and shook his head. "That is so Larry," he said. "That's the power of the object," Garand said. "It's the history, it's the touch, it's...
3 tags
"We've incorporated design elements from other successful Sony products,..."
– Introducing the new Sony HomerRemote. (Where's the tape deck?)
4 tags
3 tags
"Shared calendars are vessels you fill by taking things away from other people...."
– Mike Monteiro, The Chokehold of Calendars. (via @9-bits) A perspective that implicates UI in our behavior. As if all those email alert sounds explicitly breaking our concentration weren't enough, are our interfaces implicitly encouraging distraction? We can't solve the problem of...
3 tags
"I'm no longer the expert and that's great. The individual subject..."
– Fraser Speirs muses on how the iPad has upended a hierarchy.
3 tags
Ones or zeroes
Julie hates the new digital broadcast TV. With our weak signal, it's unforgiving. You can adjust the antenna, but the signal cuts out with seemingly no connection to what you're doing.  The analog broadcasts were more forgiving, she says. You could see and hear the signal getting weaker or stronger as you moved the antenna, which provided cues on how to adjust it. And you could get by...
6 tags
Watch
Proverbial Wallets: Financial sixth sense We have trouble controlling our consumer impulses, and there's a gap between our decision and the consequences. This is magnified by the digitization of money. The Proverbial Wallets use physical feedback reflecting our finances to imbue within us a subconscious sense that guides responsible decisions. The wallets are supermechanical objects,...
3 tags
"For new evidence to overcome truthiness, it must be framed in an appealing..."
– Convincing the Public to Accept New Medical Guidelines, Miller-McCune. The difficulty of practicing evidence-based medicine raises the questions, what is our relationship to science these days, and how are we being taught it? Blame education if you like, but have things become so complex that we...
I know you were all sitting breathlessly by the wireless last weekend, but my bit did not air. I'll be talking about the Proverbial Wallets this weekend on NPR's Marketplace Money, for reals.
3 tags
"June comes, and a new iPhone is introduced to the world, creating a shock wave..."
– The Half-Life of Phones, New York Times. Think of the energy extracted from the earth and thousands of people in order to design, manufacture and transport your phone. The staggering work of creation is not well represented by the physical object. The miracle of the tiny box in our pocket is that we...
4 tags
Listen to my soothing baritone on public radio
I will be on NPR Marketplace Money this weekend discussing the Proverbial Wallets, Internet-connected anti-computers that help you watch your spending through timely information. Your local air time: http://marketplace.publicradio.org/stations/
6 tags
Design literacy in sound
I have been quiet, mostly basking in the post-thesis glow and transitioning to the next thing, but also because I spent a week in Helsinki attending a product sound design workshop. It's been inspiring to vocally "sketch" interactions with aural affordances, or analyze how the audio track of a movie supports the main narrative, or reveals something deeper. It's good for...
3 tags
"Invisible technology needs a metaphor that reminds us of the value of..."
– Mark Weiser, The World is Not a Desktop
5 tags
3 tags
Social Networks for Lonely Objects: the...
It's been a century of posts since I started writing here to get velocity on my master's thesis in Media Arts and Sciences. I've been quiet lately because I've been finishing that to a point where I'm proud of it. Now I present it to you: Visions of ubiquitous computing describe a network of devices that quietly supports human goals, but this may also add complexity...